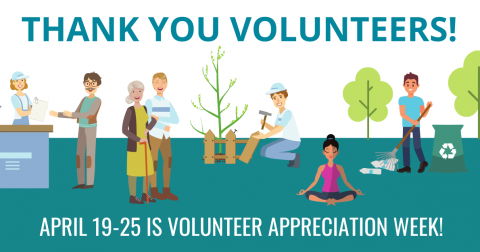 The Fairfax County Park Authority salutes its invaluable volunteers as the nation celebrates Volunteer Appreciation Week April 19-25.
Though park volunteers have been sidelined for now because of the COVID-19 pandemic, their work can still be seen and appreciated along park trails throughout the county. Trail maintenance and invasive plant management are just two of the many important services volunteers perform in parks.
By contributing their time and talents, volunteers make it possible for the Park Authority to offer the many services and spaces enjoyed by the community. Volunteers log thousands of hours each year at nature centers, historic sites, recreation centers and golf courses to improve and enrich Fairfax County. This year, the Park Authority is recognizing its volunteers from a distance but is looking forward to the day when all can return to service.
Volunteers make a difference, and the Park Authority appreciates not only their decision to serve, but to serve parks. Some volunteer because they are committed to the preservation of environmental resources or their lives were touched by the site where they serve. Many look forward to the fellowship among site staff and fellow volunteers. Whatever the reason, the Park Authority greatly appreciates their commitment to provide park visitors with an enjoyable and safe environment.
The Park Authority values its volunteers, not just during this week of recognition, but every week.
For more information, call the Public Information Office at 703-324-8662 or email parkmail@fairfaxcounty.gov.