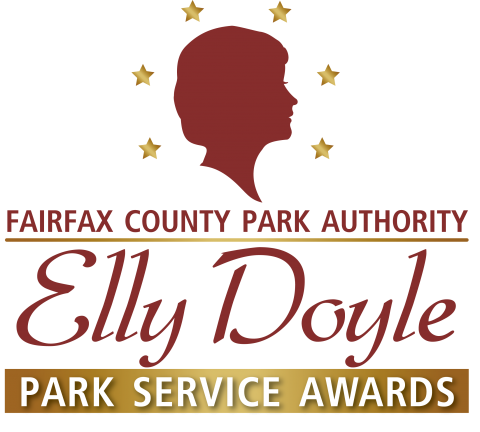 There are thousands of individuals and many organizations that volunteer each year in local parks and support programs and initiatives of the Fairfax County Park Authority. In fact, it would be difficult, if not impossible, to operate our park system without volunteers. Making sure that their service is recognized is critical.
You can recognize a volunteer's invaluable contributions with a nomination for an Elly Doyle Park Service Award, Elly Doyle Special Recognition Award, Elly Doyle Youth Award, Harold L. Strickland Partnership and Collaboration Award, Mayo Stuntz Cultural Stewardship Award, or Sally Ormsby Environmental Stewardship Award. Anyone can submit nominations.
The Elly Doyle Park Service Awards honor of Ellamae "Elly" Doyle's many years of service and accomplishments as a member and chairman of the Park Authority Board. Fairfax County's park system expanded and thrived during her tenure with the addition of significant open space, new recreational facilities, and a commitment to preservation of local natural and cultural resources.
The Harold L. Strickland Partnership and Collaboration Award honors the retired Park Board member's long service and significant contributions to the Park Authority. This award recognizes teamwork and cooperation necessary to provide state-of-the-art facilities in our Fairfax County Parks.
The Mayo Stuntz Cultural Stewardship Award honors historian, volunteer and acclaimed author Mayo S. Stuntz, and recognizes contributions to our cultural preservation efforts.
The Sally Ormsby Environmental Stewardship Award recognizes Sally B. Ormsby's many years of service as a citizen steward and honors others who help preserve and educate about local natural resources and the importance of the environment.
Award recipients of these Park Service Awards, as well as other awards by the Park Authority Board and Fairfax County Park Foundation, will be honored this fall.
All nominations are due by Friday, June 19, 2020. Awards applications are available online at https://www.surveymonkey.com/r/Ellys, and additional information about the Elly Doyles and Park Service Awards is available at Elly Doyle Awards page.
For more information or for alternative formats of the applications, please contact the Public Information Office at 703-324-8662 or via Parkmail@fairfaxcounty.gov.