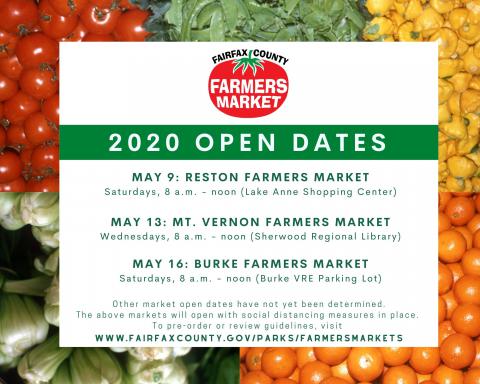 The Fairfax County Park Authority will open some of its farmers markets in May. This year's markets will again offer delicious, locally grown, farm-fresh products. Three markets will open initially, with others phased in as resources allow.
The markets will be decidedly different than in the past, as the Park Authority complies with Virginia Gov. Ralph Northam's social distancing orders and safety guidelines. Openings begin May 9, 2020, with the Reston Farmers Market at Lake Anne Shopping Center. Mount Vernon/McCutcheon Farmers Market will open Wednesday, May 13. The Burke Farmers Market at the Burke VRE parking lot will open on Saturdays starting May 16. Hours at all three markets will be 8 a.m. until noon. These first three market locations provide shopping options convenient to people across Fairfax County.
Market shoppers are asked to comply with all COVID-19 health and social distancing requirements designed to protect customers and market staff and volunteers—including limiting shoppers to two persons per household, wearing facial coverings, and maintaining six feet of distance from others at the markets. Pre-ordering items and streamlined payment and pick-up options should help make market visits relatively brief for customers.  
Following these initial market openings, the Park Authority will evaluate the operations, staffing needs, volunteer resources, and other considerations to determine if any changes are needed. The agency is hoping for successful 2020 market debuts that will pave the way for the opening of all FCPA farmers markets.  
You can find more details about our market vendors and their products, as well as pre-orders, limited contact sales and distribution, and other steps being taken to ensure safe operation of the markets online at Farmers Markets and via the agency's Facebook, Instagram and Twitter pages. For more information contact Pam Smith at 703-324-9781 or Pamela.Smith@FairfaxCounty.gov .