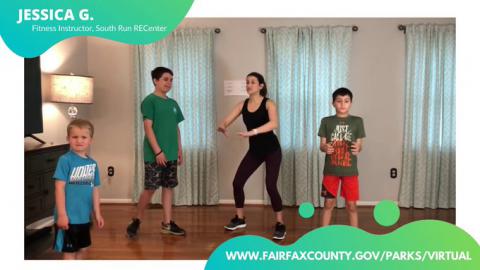 The Park Authority is bringing the fun of Fairfax County parks and recreation facilities to your home with the Virtual Exploration Center. This week, new features have been added to give your family a workout, challenge the kids with scavenger hunts and help you delve into county history from the comfort of your couch.
The Virtual Exploration Center provides one-stop shopping for ideas on how to keep healthy and stay entertained while COVID-19 restrictions have us all sticking close to home. You can find links to workout videos and fitness trackers, educational guides to plants and animals, and story maps tracing local history. All features are cost-free and geared toward family fun.
This week, we feature a Roll the Dice Workout from a fitness instructor at South Run RECenter that turns a family workout into a game of chance. The Scavenger Hunt link challenges family members to be keen observers, indoors or outdoors, and adds a little adventure to walks or rainy days in the house. Scroll through the photos on the artiFACTS web page and discover how this unusual collection of items reveals Fairfax County's past. Can you guess what the items are before reading their stories?
Check back regularly for updates to the Virtual Exploration Center to stay physically and mentally fit while parks and park facilities remain closed.
For more information, contact the Public Information Office at 703-324-8662 or send an email to parkmail@fairfaxcounty.gov.