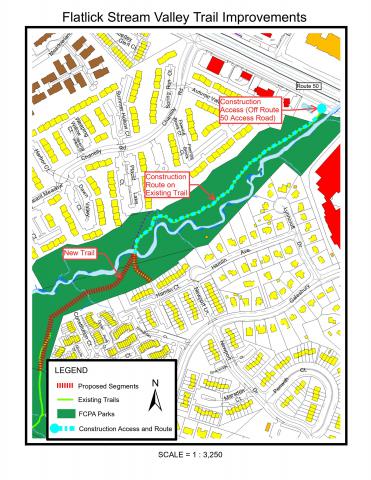 The Fairfax County Park Authority will soon begin work on a new trail in Flatlick Stream Valley Park in Chantilly.
This project will include the paving of approximately 1,250 linear feet of new asphalt trail, along with a concrete fair-weather crossing. The construction entrance will be located on a public-service road adjacent to Lee Jackson Memorial Highway (Route 50). The project will include a span approximately from Hamlin Court to Bordolino Drive adjacent to the Brookleigh subdivision neighborhood. Area residents should expect occasional traffic at the construction access point as paving materials and equipment are brought to the site. As a safety precaution, portions of the existing trail will be closed to users during the project.
The contractor, Tibbs Paving Inc., plans to begin construction work in mid-May. Active construction is expected to be completed in the fall. The $494,000 project is being funded by the 2016 Park Bond. For more information, please contact Project Manager Ed Deleon at eduardo.deleon@fairfaxcounty.gov.