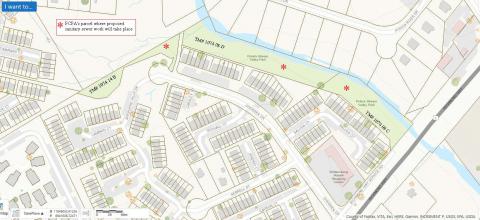 Work associated with an approaching sanitary sewer replacement project within Pohick Stream Valley Park on parcels adjacent to Williamsburg Square neighborhood in Lorton, Virginia, is set to begin. This is a project to upgrade the existing sanitary system. This project will be managed by Kettler on behalf of Gunston Richmond LLC as part of the approved East Hill development plan.
Residents and park visitors may see county staff from various agencies and survey crews in the area during the preliminary phase. Actual construction work on-site is expected to begin in 90 to 120 days and will take approximately 30 days to complete. No disruption to the sewer service is anticipated with this upgrade work.
The Pohick Stream Valley Park parcels are located to the north of Cherwek Drive and the adjacent Williamsburg Square townhomes in Lorton, Virginia. For project information contact Bijan Sistani with Fairfax County Site Development & Inspections Division at 703-324-1797.