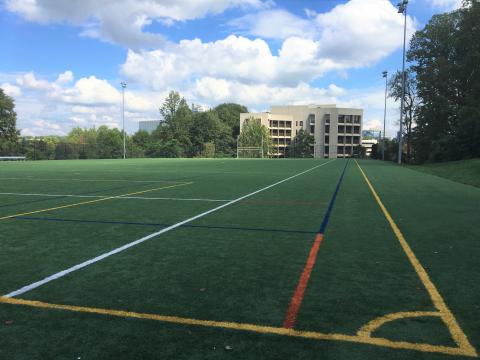 The Fairfax County Park Authority (FCPA), Fairfax County Public Schools (FCPS), and the Department of Neighborhood and Community Services (NCS) are announcing the reopening of outdoor athletic fields in Fairfax County for unpermitted use as part of Forward Virginia Phase 1 for Northern Virginia. This includes more than 850 athletic fields, including synthetic turf fields and fields at Fairfax County parks and public schools.
Open, walk-on use of athletic fields is allowed when the field is vacant and only during regular operating hours. All groups that use the fields must follow all state and Centers for Disease Control and Prevention (CDC) guidelines, including limiting group size to fewer than 10 individuals, following social distancing, wearing a cloth face covering if physical distancing is difficult, covering coughs and sneezes, using proper handwashing hygiene and staying home if sick.
In Phase 2 of Forward Virginia, it is intended that Fairfax's athletic fields will transition to permitted use. Non-permitted groups will be required to leave the field if an appropriately permitted group arrives for their scheduled field use time. All groups will still be required to follow state and CDC guidelines regarding COVID-19.
NCS is responsible for ensuring the efficient and equitable use of all park and public school athletic fields through a permitting process outlined in the Board of Supervisors approved Field Allocation Policy. For additional information, contact NCS Athletic Services and Community Use Scheduling by email at AthleticServices@fairfaxcounty.gov or telephone at 703-324-5533.