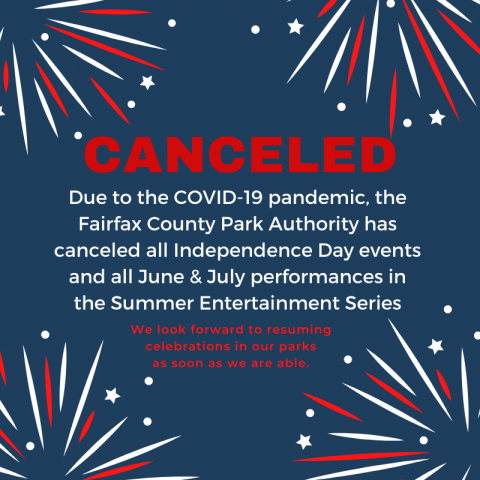 The Fairfax County Park Authority's Summer Entertainment Series will be canceled through July due to public safety concerns related to the COVID-19 pandemic, and Fourth of July events have been canceled, too. Centers for Disease Control and Prevention and health-related guidelines continue to recommend against large gatherings. Fourth of July programs and the free series of concerts and performances for children have regularly drawn crowds in summers past.
Earlier it was announced that the summer performance series would be canceled through June as conditions were assessed for a possible opening later in the summer. Upon the guidance of health officials, the decision has now been made to extend the cancellation through July.
For similar health reasons, the Park Authority will not be hosting Fourth of July events this year. In the past, the Park Authority has honored Independence Day with celebrations at several sites.
For more than a quarter century, the Park Authority has worked with the Fairfax County Board of Supervisors and the Fairfax County Park Foundation to bring free musical, dance, and children's performances to parks throughout the county through the Summer Entertainment Series. Last year, the series offered more than 170 performances and outdoor movies from June through August. These free performances are made possible each year through private donations, which pay for performers' fees.
The Park Authority and Park Foundation greatly appreciate the contributions of performers and generous local sponsors who support these summer performances each year. A decision has not yet been made regarding August performances, including the popular Starlight Cinema drive-in movies.
For more information, contact the Park Authority at 703-324-8700 or send an email to parkmail@fairfaxcounty.gov.