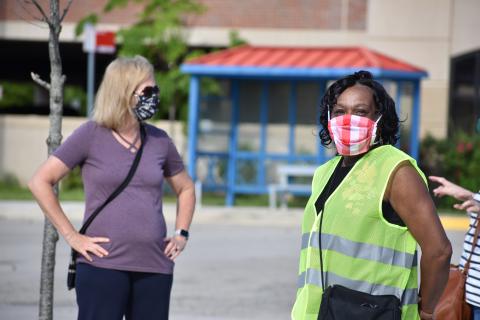 Beginning today, face coverings must be worn inside public spaces.  For the Fairfax County Park Authority, this currently means anyone who visits a Park Authority golf course clubhouse, or other indoor space would fall under Virginia Governor Ralph Northam's Executive Order 63.  This effects players or visitors as well as park staff members.  As other public facilities open, this rule will apply there as well.  For details on compliance, read this information on face coverings.
Other changes to the park system were also prompted by the new order and include the opening of campgrounds at Lake Fairfax Park in Reston as well as Burke Lake Park in Fairfax Station.  Batting cages at Braddock Park in Clifton will also operate this weekend.
The Park Authority will begin to provide permitted use of picnic shelters or other permits that conform to the restrictions of social distancing and limit group size for activities.  These might include a small group of 10 or less people in a shelter, a class or photography permit.
Earlier this week, the Park Authority announced the opening of athletic fields for non-permitted use. 
We encourage all park visitors engage in socially responsible behavior including social distancing, small group gatherings, following park rules and when appropriate, covering their faces.  Visit online for more information or contact us at 703-324-8700 during regular business hours or via Parkmail@fairfaxcounty.gov.