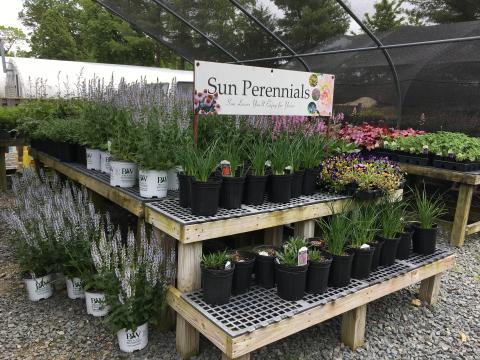 Green Spring Gardens is now offering phone orders and curbside pickup of plants from its Garden Gate Plant Shop. Choose from an assortment of shrubs and perennials, place your order, and have the plants loaded directly into your trunk.
Gardeners who want to shop at Green Spring can go to the park's website to see what is for sale. The order form, which is updated weekly, lists what plants are available, their size and price. Once you've made your selections, call Green Spring at 703-642-5173 to place your order.
All orders are being taken by telephone and must be paid by credit card. Orders are accepted Monday through Saturday from 10 a.m. to 4 p.m. and on Sundays from noon to 4 p.m. Pickups are Wednesdays and Fridays from 10:30 a.m. to 12:30 p.m. and from 2 to 3:30 p.m. Customers will be asked to choose a pickup time when they place their order. Order forms will be updated each Thursday.
Plants can be picked up in the traffic circle at the Horticulture Center at Green Spring Gardens, located at 4603 Green Spring Road in Alexandria, Virginia. Customers must stay in their vehicle, and staff will load plants into the trunk.
Sales benefit the Friends of Green Spring (FROGS), which uses the proceeds to buy plants and supplies for Green Spring Gardens.
For more information, contact the Public Information Office at 703-324-8662 or send an email to parkmail@fairfaxcounty.gov.