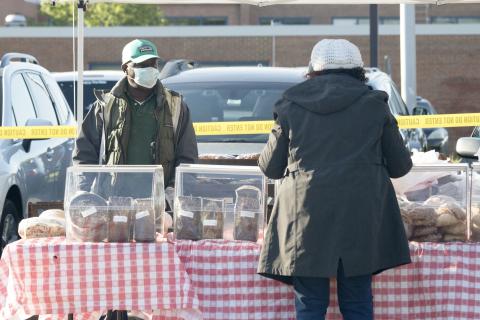 Fresh fruits, vegetables, baked goods and more will soon be available at four additional Fairfax County Park Authority Farmers Markets. Markets at Oak Marr, Annandale, McLean and Kingstowne have now been scheduled to open.
Openings of the county's 10 producer-only markets were delayed this year because of the COVID-19 pandemic. Market openings were phased as health conditions allowed and volunteers became available to serve at the markets. 
Four more markets will open and operate on the following schedule:
Oak Marr, 3200 Jermantown Road – June 10 – Wednesdays from 8 a.m. to noon
Annandale, 6621 Columbia Pike – June 11 – Thursdays from 8 a.m. to noon
McLean, 1659 Chain Bridge Road – June 12 – Fridays from 8 a.m. to noon
Kingstowne, 5870 Kingstowne Towne Center – June 19 – Fridays from 3 p.m. to 7 p.m.
When possible, shoppers are encouraged to preorder their items directly from the local vendors. Go to the Farmers Markets website and click on the Vendor Preorder List for a list of all market vendors and their ordering policies. You can also click on an individual market for details on the vendors at that market and preordering instructions.
At the markets, customers are asked to comply with all COVID-19 safety procedures, including limiting shoppers to two persons per household, wearing facial coverings, and maintaining 6 feet of distance from others. There may be a waiting line, and there will be a one-way path through the markets. To give everyone the best shopping experience possible, please consult the 2020 Market Guidelines infographic before your visit.
For more information, contact Pam Smith at 703-324-9781 or Pamela.Smith2@FairfaxCounty.gov.