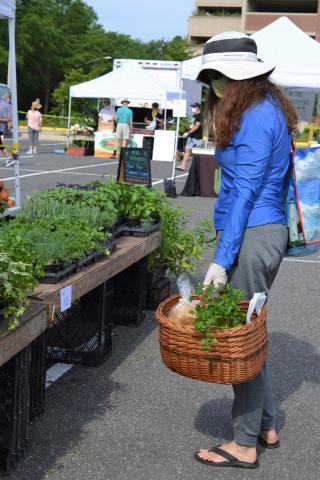 The Fairfax County Park Authority's Farmers Market in Herndon will open for the season on Thursday, June 18, 2020.
The county's producer-only markets sell fresh fruits, vegetables, meats, baked goods and more. Farmers and producers may only sell what they raise on their farms or make from scratch. The markets have opened on a phased basis this year, as health conditions allowed and resources became available to serve markets.
Herndon's market is on the 700 block of Lynn Street, by the Red Caboose. It will be open on Thursdays from 8 a.m. to 12:30 p.m. Locations and operating hours of the nine other markets can be found on the Farmers Markets website.
When possible, shoppers at all of the markets are encouraged to preorder their items directly from the local vendors.
On the Farmers Markets website, click on the Vendor Preorder List for a list of all market vendors and their ordering policies. You can also click on an individual market for details on the vendors at that market and preordering instructions.
At the markets, customers are asked to comply with all COVID-19 safety procedures, including limiting shoppers to two persons per household, wearing facial coverings, and maintaining 6 feet of distance from others. There may be a waiting line, and there will be a one-way path through the markets. To give everyone the best shopping experience possible, please consult the 2020 Market Guidelines infographic before your visit.
For more information, contact Pam Smith at 703-324-9781 or Pamela.Smith@FairfaxCounty.gov.