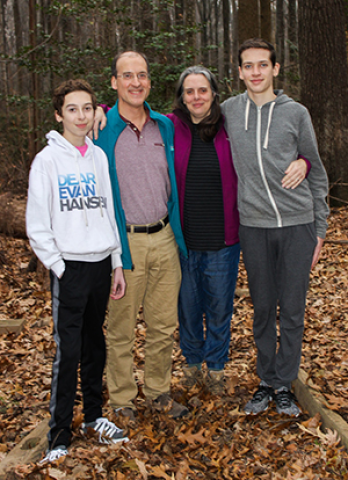 The National Association of County Park and Recreation Officials (NACPRO) has selected The Lazar Family as a recipient of a 2020 NACPRO Award in the Outstanding Contributor category.
The Lazar Family, Heidi Allen and Tibor Lazar, and their sons Corvin and Keaton, are the embodiment of citizen stewards, sharing their love of the natural world in personal and more tangible ways. Heidi and Tibor come from families that love nature, animals and most importantly, giving back to the community.
Heidi's desire to help the environment led her to become a dedicated volunteer with the IMA (Invasive Management Area) program in 2014. This award-winning program has already taken hundreds of unmanaged park acres that were overgrown with invasive plants and returned them to health.
Family members went on to establish The Lazar Family Fund through the Fairfax County Park Foundation to benefit future natural resource management in Fairfax County parks. The fund will include $360,000 contributed as seed money over 10 years. This is in addition to $16,000 donated since 2015. In establishing the fund, Heidi said, "We want this fund to be a starting base and encourage other people to give to this fund so we can have good-quality parkland that people can enjoy. We need to take better care of the land and control invasive plants."
The Fund honors the memory of Tibor's parents, Rita and Csaba Lazar, Hungarian immigrants whose environmental legacy continues in Rappahannock County. In 2020, the Lazars generously committed another $124,000, which will benefit the Park Authority IMA program, natural resource stewardship and the Lazar Family Fund. This gift represents a legacy by honoring the life of Heidi Allen's stepfather, James 'Jim' Hawthorne, who she credits as "my mentor and guide to all things wild." The family's philanthropy is timely and an inspiration for others who love nature and value the importance of beautiful parkland in Fairfax County.
NACPRO is a nonprofit professional organization that advances official policies that promote county and regional park and recreation issues, while providing members with opportunities to network, exchange ideas and best practices, and enhance professional development. NACPRO awardees are usually honored in person at the organization's annual awards banquet. This year, because of the COVID-19 pandemic, the banquet has been canceled. The Lazar Family will instead be honored by the Park Authority at a still to be determined time.
For more information, contact the Public Information Office at 703-324-8662 or send an email to parkmail@fairfaxcounty.gov. You can find out more about the Fairfax County Park Foundation on its website.