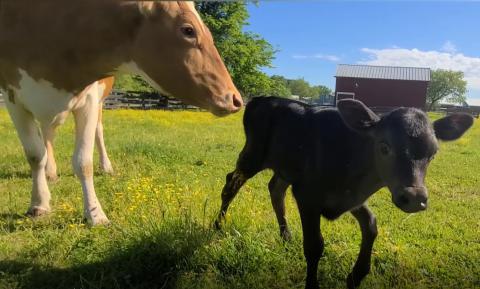 Go on a virtual field trip to Frying Pan Farm Park and get eye-to-eye with a cow and her calf at the Park Authority's Virtual Exploration Center. Watch the video "A Day in the Life of a Dairy Cow" to see what the park's cows have been doing and learn what it takes to get milk from the dairy animals.
The Frying Pan video is just one of the new additions this week to the Virtual Exploration Center. You can also join a fitness instructor from Spring Hill RECenter, who will demonstrate ways to stay fit using a stability ball. Then, challenge your kids or test your own knowledge with the Parts of a Flower worksheet. Take the worksheet on a wildflower walk to see plants and all their parts growing in nature.
Check back regularly for updates to the Virtual Exploration Center to stay physically and mentally fit while access to park facilities is limited due to the COVID-19 pandemic.
For more information, contact the Public Information Office at 703-324-8662 or send an email to parkmail@fairfaxcounty.gov.