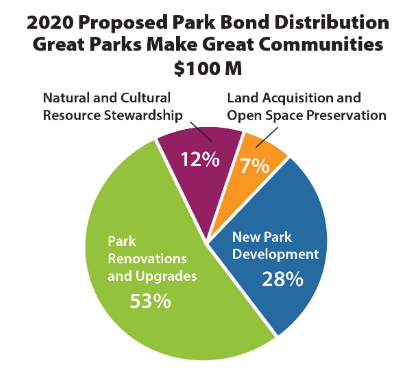 The Fairfax County Park Board has approved a plan for the distribution of funds from the $100 million Park Bond that is scheduled to appear on the ballot in the upcoming November election. Voters will consider the agency's 14th referendum, which provides capital funding for a variety of park projects. The Park Board recently voted to allocate the funds into the following categories: Park Renovations and Upgrades 53%, New Park Development 28%, Natural and Cultural Resource Stewardship 12%, and Land Acquisition and Open Space Preservation 7%.
On June 23, 2020, the Board of Supervisors adopted a FY2021-2025 Capital Improvement Program that called for a 2020 Park Bond referendum of $112 million. Of that total, $100 million will be allocated to the Fairfax County Park Authority and $12 million to the Northern Virginia Regional Park Authority (NOVA Parks).
Under the approved Park Authority plan, funds allocated to Park Renovations and Upgrades would be used to improve existing park facilities. Renovations extend the design life of facilities and can include infrastructure additions and modifications. This includes life cycle replacement of playgrounds, picnic shelters, outdoor restrooms athletic field lighting and irrigations systems, as well as renovation of several community parks.
The New Park Development category covers the planning, design and/or construction of new park facilities, where none existed before, to meet new demand or to provide additional functionality or enhance planned capacity to an existing facility or site. Potential project examples include development of new trails and stream crossings countywide, the full build-out of the athletic field complex at Patriot Park North, and construction of a second sheet of ice at Mt. Vernon Recreation Center. Upgrades could also include RECenter expansions that support expanded programming and facility capacity.
Natural and Cultural Resource projects include capital projects that promote the protection, enhancement, interpretation and education of natural, cultural and general park resources. Improvements may include historic structure stabilization, preservation or rehabilitation, new visitor centers, historic and archaeological collections support facilities, exhibit space and environmental enhancement projects, such as stream restorations, rain gardens, riparian buffer enhancements and habitat restoration areas.
Land Acquisition and Open Space Preservation funds cover costs related to the acquisition of parkland and/or parkland rights and the preservation of open space. This category also includes fee simple purchase of real property for park use and related costs; acquisition of trail easements; costs related to acceptance of dedications and donated properties; and structure demolition costs.
For more information about the 2020 Park Bond visit online. For more information, contact the Public Information Office at 703-324-8662 or send an email to parkmail@fairfaxcounty.gov.