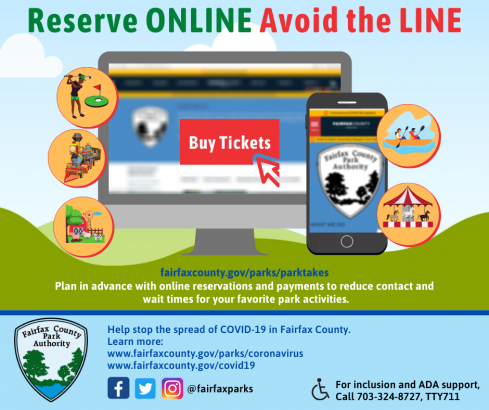 The Fairfax County Park Authority has launched a new online ticketing system that allows visitors to avoid ticket lines for select park activities. The move is designed to help reduce the spread of COVID-19 in the county by reducing physical contact via transactions and making it easy to practice social distancing.
You can buy an unlimited number of tickets for your favorite activities for the same day or different days. Drop-in tickets will still be available on site if activities do not sell out online. The Park Authority encourages park users to check the status online or book online before arriving.
As facilities reopen, online tickets will be made available for the following:
Amusements: train and carousel rides, mini golf, marina/boat rentals, wagon rides
Frying Pan Farm Park Equestrian Riding Passes
Frying Pan Farm Tours
Mt. Vernon Ice Skating
Historic Tours
Reservations for all amusements and boat rentals will open as of the 25th of the month for the following month. Tickets will be sold for specific time slots, and customers will receive a confirmation email following their purchase.
New safety procedures are in effect at park venues. Amusements will run at reduced capacity, seats and railings will be cleaned between uses, there will be a 15-minute sanitation break between rides, and queues will be marked to promote social distancing guidelines. Masks are recommended, and customers are encouraged to carry wipes and hand sanitizer to help stop the spread of COVID-19.
To use the online ticketing system, visitors must have an account with the Park Authority. If you don't have one already, you can create an account by visiting fairfax.usedirect.com/FairfaxFPAWeb/Customers/NewCustomer.aspx.
Once you have an account, search for available activities and book online.
For more information, contact the Public Information Office at 703-324-8662, or send an email to parkmail@fairfaxcounty.gov.