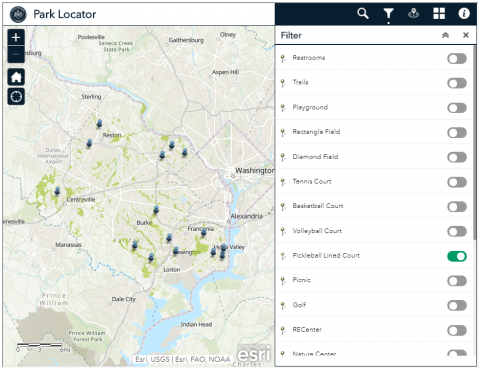 Pickleball continues to grow in popularity. The game was invented by two fathers in Washington state in 1965, who sought entertainment for their bored children and used an old badminton court one summer day. Pickleball is now played at more than 4,000 locations worldwide and has exploded nationally and internationally. Their goal was to create a game that the whole family could play together. Clearly, they have been successful and in Fairfax County, as in other parts of the world, the game has caught on.
The Fairfax County Park Authority continues to adapt to this new demand and to provide courts that are lined for the game. Finding these courts has been a challenge but that just got easier. The Park Locator web application has been updated to include Park Authority pickleball locations.
These locations can be easily found using the new filter that has been added. By turning on the "Pickleball Lined Court" filter, users can see that there are 15 parks that have a tennis or basketball court lined for pickleball. Within these 15 parks, there are a total of 28 courts available for playing the game.
In addition to the new filter, users can also see the total number of courts at each location that have been lined for pickleball. By clicking on a location with pickleball (after turning on the filter), the "basketball" and "tennis" fields will show the total number of courts that have been lined for Pickleball. Please note that this application does not include any of the amenities or courts that are available within our RECenters.
For more information contact the Public Information Office at 703-324-8662 or via Parkmail@fairfaxcounty.gov.