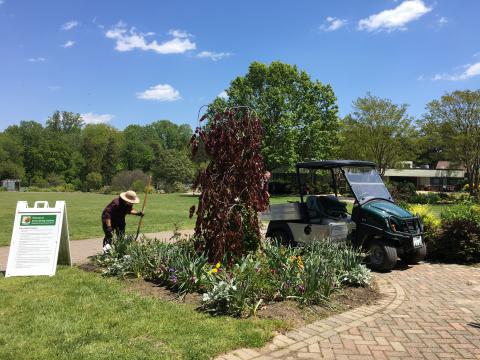 The Fairfax County Park Authority (FCPA) is looking for nearly 150 enthusiastic workers to fill seasonal positions at the agency now that COVID-19 safety restrictions are being eased and park facilities are reopening under Gov. Ralph Northam's phased Forward Virginia Blueprint.
Have fun and get paid while enjoying the park system this summer. Many positions are primarily outdoors with new safety protocols in place for both workers and park customers. If you need something to bring in income until the dust settles, this could be a great partnership. Positions are available at the county's seven golf courses, waterfront parks, Clemyjontri Park, and other park locations. We seek bright, dedicated, capable employees who are available immediately.
Due to COVID-19 safety restrictions, all hiring will take place virtually using a variety of online tools. If you already know what types of jobs you want, then search for openings on the Park Authority's Jobs and Internships website. Click on Summer Hires to find listings at all locations. Additionally, the Park Authority will be conducting Virtual Job Fairs for job openings for Golf, Park Services, Resource Management and Park Operations in the weeks ahead to provide additional information.
The Park Authority has worked closely with the county's Health Department to ensure our facilities and workspaces meet all national- and state-level safety criteria. The county has implemented stringent social distancing, face covering recommendations, and cleaning procedures, and the Park authority has procured sufficient personal protective equipment to support our reopening and continued operations. Each site has been – and will continue to be – inspected by safety and risk management professionals to ensure the safety of both our employees and our customers. Additionally, we have installed new plexiglass barriers and created new business rules (such as reduced occupancy, facility registration procedures, etc.) to ensure creation of a safe environment for employees and visitors.
For more information, contact the Public Information Office at 703-324-8662 or send an email to parkmail@fairfaxcounty.gov.