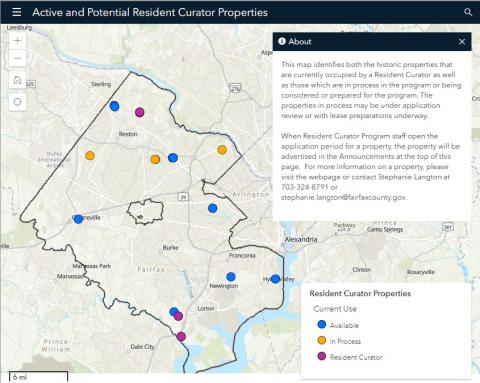 There are dozens of historic homes and buildings in Fairfax County that need to be preserved and could be utilized in new and inventive ways that protect the structures but provide a host of possible uses.
The Resident Curator Program (RCP) is designed to preserve historic properties by offering long-term leases to qualified tenants who agree to rehabilitate and maintain these historic resources. A curator can be a private citizen, a nonprofit entity or a for-profit entity.
RCP provides a novel way by which Fairfax County can protect its historic properties without placing the burden on the taxpayers.
The Board of Supervisors adopted the Resident Curator Program Ordinance in 2014, establishing a Resident Curator Program in Fairfax County. The Fairfax County Park Authority administers this popular program and currently has several properties in the curatorship or moving through the approval process.
Recently, the Park Authority made it easier than ever to find out about these properties through development of the Active and Potential Resident Curator Properties Web Application. This new map feature identifies both the historic properties that are currently occupied by a Resident Curator, as well as those that are in process in the program or being considered or prepared for the program.
Available in an easy-to-use and visual format, there is information for each site about the status of the property, year of construction, and a unique and notable fact about its history. This application affords the public a new way to learn about and visualize these properties - in the context of the county and in relation to each other. The Web Application is available to the public on the Resident Curator webpage.