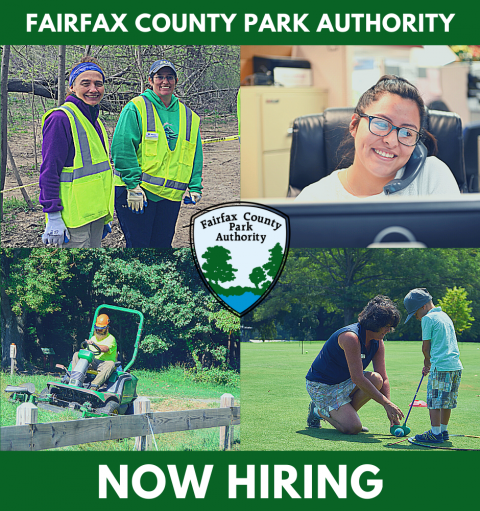 The Fairfax County Park Authority (FCPA) is still looking for enthusiastic workers to fill seasonal positions now that COVID-19 safety restrictions are being eased and park facilities are reopening under Gov. Ralph Northam's phased Forward Virginia Blueprint.
Last month's call for applicants brought forward lots of talented applicants, but we still have room for a few more. Getting a job was never easier, especially with online applications and three Virtual Job Fairs scheduled.
Parks, lakefront areas and golf courses, playgrounds, historic sites, and other unique locations offer fun places to enjoy the summer season, as well as earn competitive pay. Many positions are primarily out-of-doors, and all positions have new safety protocols in place for both workers and park customers.
If you already know what types of jobs you want, then search for openings on the Park Authority's Jobs and Internships website. Click on Summer Hires to find listings at all locations. Additionally, the Park Authority will be conducting Virtual Job Fairs for job openings for Golf, Park Services, Resource Management and Park Operations in the weeks ahead to provide additional information.
Save the date if you are interested in learning more about jobs in:
You can access these links from anywhere. We look forward to talking with you. All hiring will take place virtually, due to COVID-19 safety restrictions.
The Park Authority has worked closely with the county's Health Department to ensure our facilities and workspaces meet all national- and state-level safety criteria. The county has implemented stringent social distancing, face mask requirement, and cleaning procedures; and the Park authority has procured sufficient personal protective equipment to support our reopening and continued operations.
For more information, contact the Public Information Office at 703-324-8662 or send an email to parkmail@fairfaxcounty.gov.