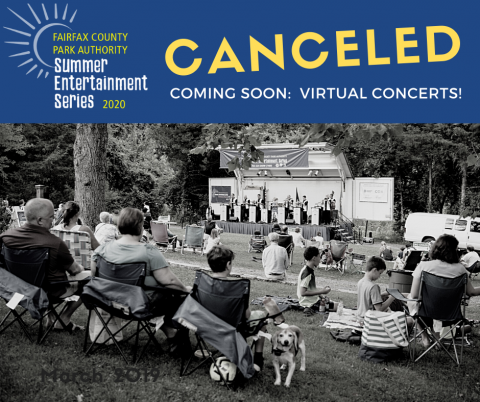 Due to public safety concerns related to the COVID-19 pandemic, the Fairfax County Park Authority's 2020 Summer Entertainment Series in-person events will be canceled. As our region continues to move forward, we believe it is prudent to heed the advice of health officials who recommend against large public gatherings at this time.
This is a summer like no other.
"We look forward to a time when we can invite the public to enjoy our summer concerts and our event gatherings in person. While we all miss getting together, we have an exciting new way to enjoy great shows from the safety of your home. We will be providing virtual concerts for each magisterial district beginning July 30 through the end of August," according to Kirk Kincannon, Park Authority Executive Director.
Virtual concerts will be held Thursday through Sunday evenings at 7:30 p.m., and children's shows will be held on Saturday mornings at 10 a.m. A schedule of virtual events will be released later this month.
For more than a quarter century, the Park Authority has worked with the Fairfax County Board of Supervisors and the Fairfax County Park Foundation to bring free musical, dance and children's performances to parks throughout the county through the Summer Entertainment Series. Last year, the series offered more than 170 performances and outdoor movies from June through August. These performances in the parks draw tens of thousands each year. These free performances are made possible through private donations, which pay for performers' fees.
For more information, contact the Park Authority at 703-324-8700 or send an email to parkmail@fairfaxcounty.gov.