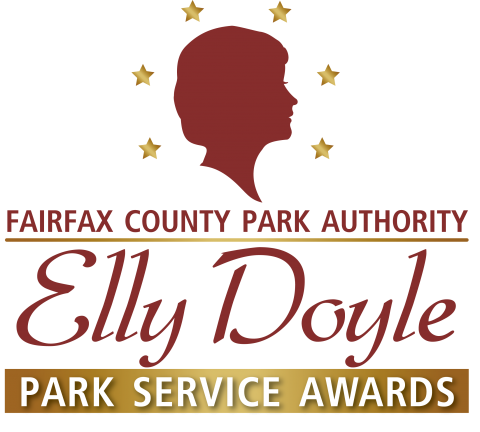 Nineteen Fairfax County Park Authority volunteers will be honored as Outstanding Volunteers at the 2020 Elly Doyle Park Service Awards virtual celebration in November.
Volunteers offer invaluable services at county parks, recreation facilities, golf courses, nature centers and historic sites.
In fiscal year 2019, more than 5,000 volunteers provided 188,386 volunteer service hours to the Park Authority.
Those volunteers, who work at a wide variety of park locations and serve diverse needs, include the following individuals who will be honored for outstanding service:
Debbie Berry – Providence RECenter
Ronald "Ronnie" Billodeaux – Frying Pan Farm Park
Roberta Bucher – Huntley Meadows Park
Allison Carnathan – Sully Historic Site
Lisa Dickenson – Oak Marr RECenter
Bob Dinse – Hidden Oaks Nature Center
Lina Le Faucheur – Spring Hill RECenter
Sara Holtz – Invasive Management Area Program
Karen Hunter – Cub Run RECenter
Mary Alice Huybrechts – Green Spring Gardens
Janet Jaeger – Lee District RECenter
Richard Langguth – Twin Lakes Golf Course
Johnny T. Lopez – South Run RECenter
Ron Pickett – Laurel Hill Golf Club
Peggy Plunkett – Audrey Moore RECenter
Savannah Purdy – Hidden Pond Nature Center
Robert "Tim" Schnoor – Adapted Aquatics at Spring Hill RECenter
Tony Williams – Mount Vernon RECenter
Justinian "Juss" Wright – Ellanor C. Lawrence Park
The Elly Doyle Park Service Awards were established by the Park Authority in 1988 in recognition of former Park Authority Board Chairman and member Ellamae Doyle's years of outstanding service toward the preservation of parkland and establishment of natural and recreational areas for the benefit of Fairfax County residents. The purpose of the annual awards is to publicly recognize volunteers for outstanding contributions to Fairfax County parks.
To learn more about volunteer opportunities in the parks or to register as a volunteer, please visit the Volunteer in the Parks website.
For more information, contact the Public Information Office at 703-324-8662 or at parkmail@fairfaxcounty.gov.