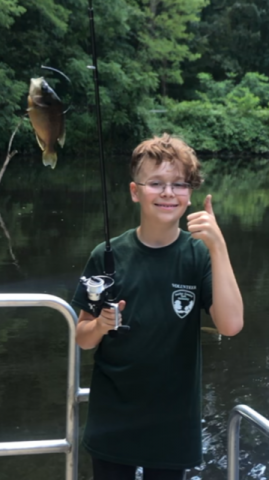 A Springfield, Virginia, teenager described as an "all-round volunteer dynamo" is the 2020 Youth recipient of a Fairfax County Park Authority Elly Doyle Park Service Awards.
Hidden Pond Nature Center volunteer Josh Morrison was nominated for the award to honor the service contributions he has made to the park through a variety of volunteer roles.
Josh worked regular weekend volunteer shifts at the park, often filling in for others who were unable to work their shifts. He was assigned to live exhibit care, which included feeding and cleaning of tanks, and during his Saturday shifts, he often led or co-led birthday party reptile talks and pond studies for the participants. He also performed light maintenance work, assisted with trail maintenance projects, and gave occasional impromptu reptile talks for visitors to the nature center. Aside from his regular duties, Josh also helped with summer camps, proving to be a responsible group leader.
In 2020 alone, the 14-year-old contributed more than 75 hours of service to Hidden Pond before the facility was closed due to the COVID-19 pandemic. When site management began sending out calls for interest in returning to volunteering, Josh was one of the first to say he was ready to get back to volunteering and was scheduled to help with animal care and some programs.
The Elly Doyle Park Service Award was established by the Fairfax County Park Authority on Dec. 20, 1988, in recognition of former Park Authority Board Chairman and member Ellamae Doyle's years of outstanding service toward the preservation of parkland and establishment of natural and recreational areas for the benefit of Fairfax County residents. The purpose of the award is to publicly recognize a volunteer or group of volunteers for outstanding contributions to Fairfax County parks.
The Elly Doyle winners will be honored at a virtual Park Authority ceremony in November.
For more information, contact the Public Information Office at 703-324-8662 or at parkmail@fairfaxcounty.gov.