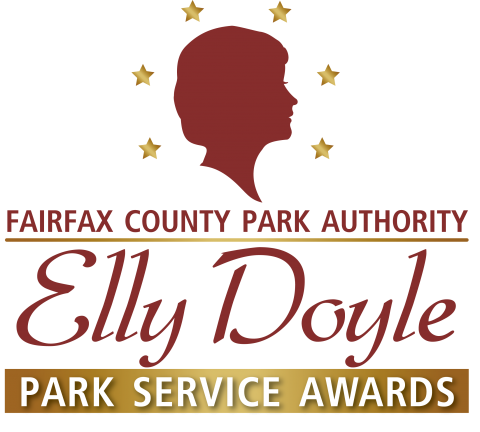 Volunteers from Colvin Run Mill, Frying Pan Farm Park and the Olander and Margaret Banks Neighborhood Park will be honored for their outstanding service contributions as recipients of the Fairfax County Park Authority's 2020 Elly Doyle Park Service Awards.
Kathleen "Kitty" O'Hara has been giving tours at Colvin Run Mill for 17 years and supports the historic site as the treasurer for Friends of Colvin Run Mill. She shares her knowledge about milling and the importance of simple machines with hundreds of local third-graders who visit the mill each year on school field trips. This past year, she initiated the design and purchase of a unique educational object that will give visitors a hands-on experience and a "behind-the-curtain" look at how raw grain and finished flour are moved around the mill untouched by human hands.
Leslie Painter has been a volunteer at Frying Pan Farm Park for more than a decade. As secretary of the Friends of Frying Pan Farm Park Board, she has provided a wealth of technology support for the Board and park staff. The avid horsewoman also teaches equestrian sessions, helps manage shows at the park, and is quick to volunteer when any work needs to be done -- from serving meals to cleaning the barn to running major events. She has made a major impact on the Friends' fundraising efforts by increasing participation and managing the paperwork and responses to the group's many donors.
Carolyn Banks Summers has volunteered for more than 15 years to maintain the home, grounds and cultural aspects of her family's former homestead for the use and enjoyment of the Kingstowne and Franconia communities. She has done this at the Olander and Margaret Banks Neighborhood Park through myriad activities, cleanups and engagement with the community and neighborhood students. She created the Friends of Olander Banks group to support the park, and she worked with her father and the Park Authority to design and dedicate a large brick and stone memorial bearing her parents' likeness and names.
The award winners will be honored at a virtual ceremony in November.
The Elly Doyle Park Service Award was established by the Park Authority in 1988 in recognition of former Park Authority Board Chairman and member Ellamae Doyle's years of outstanding service toward the preservation of parkland and establishment of natural and recreational areas for the benefit of Fairfax County residents. The purpose of the award is to publicly recognize a volunteer or group of volunteers for outstanding contributions to Fairfax County parks.
For more information, contact the Public Information Office at 703-324-8662 or at parkmail@fairfaxcounty.gov.