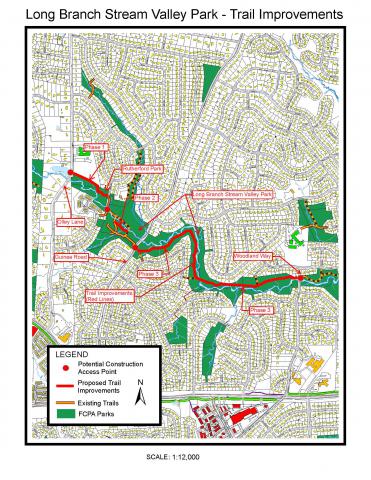 The Fairfax County Park Authority will soon begin trail improvement work on trails in Long Branch Stream Valley Park and Rutherford Park in Burke.
This project will include the reconstruction of approximately 5,200 linear feet of asphalt trail in Long Branch Stream Valley Park and 250 linear feet of new asphalt trail in Rutherford Park. There will be multiple construction access locations for this project. Construction will be accessed from the public right-of-way on Olley Lane, Guinea Road, Woodland Way and Marley Road.
The project will extend from Woodland Way to Olley Lane adjacent to the Little Run Elementary School. Area residents may experience occasional traffic at the construction access points, as paving materials and equipment are brought to the site. As a safety precaution, portions of the existing trails will be closed during the project, and the project improvements will be phased to minimize the overall trail closures.
The contractors, Tibbs Paving Inc. and Accubid Construction Services, Inc, will begin construction within the next two weeks. Project completion is anticipated this winter. The $674,650 project is funded by the 2016 Park Bond.
For more information, please contact Project Manager Ed Deleon at eduardo.deleon@fairfaxcounty.gov.