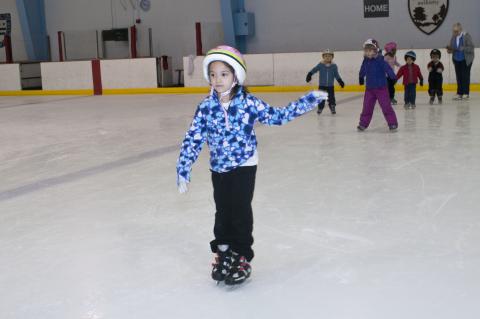 Take a break from the summer's heat and cool off with a little ice skating at the Mount Vernon RECenter.
Afternoon and evening sessions are open for skaters of all ages and abilities. You can register for a two-hour session and pay your admission in advance through the Park Authority's Popular Activities website. Customers with a RECenter membership or Skate Book Pass can select a timed entry under the Pass Holder-Public Session category at no additional fee.
Reserve half-hour Freestyle Sessions through the Popular Activities link. You must be at Freeskate I level to skate during a Freestyle Session, unless under the direct supervision of a coach or with approval of the Skating Director.
Keep in mind that it is impossible for the Park Authority to disinfect park equipment and furnishings in a manner that totally eradicates the potential spread of COVID-19. Remember to stay home if you are sick, have symptoms of COVID-19 or have been in contact with someone who has tested positive for COVID-19 in the past 14 days. A temperature check, health screening, and mask/face covering are required for entry. Lockers will not be available. Bring a water bottle, as water stations will be limited.
Mount Vernon RECenter is located at 2017 Belle View Blvd., Alexandria, Virginia. For more information, call 703-768-3224 or visit Mount Vernon RECenter.