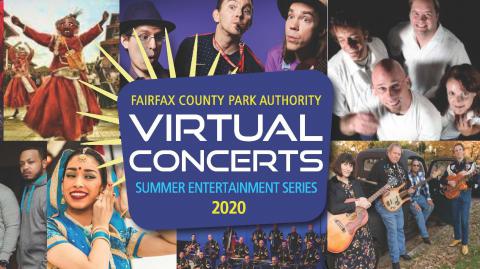 Beginning July 30, the Fairfax County Park Authority will livestream 25 free summer concert events featuring a mix of nationally known performers and singer-songwriters. These virtual events provide a new way to enjoy great performances from the safety of your home.
Concerts will be broadcast live via Facebook each Thursday through Sunday evening at 7:30 p.m. Arts in the Parks children's shows will be livestreamed Saturday mornings at 10 a.m.
Viewers can enjoy a range of musical styles from folk, rock, jazz, country, Latin music and more. Performers include Grammy Award winners, Los Texmaniacs, Irish rock band Scythian, folk artist John McCutcheon and D.C. go-go favorite the Junkyard Band. Saturday morning children's shows include acclaimed artists Billy B. and 123 Andrés.
Each year, the Fairfax County Park Authority together with the Fairfax County Board of Supervisors and the Fairfax County Park Foundation offer free concerts, movies and children's performances in Fairfax County parks. The shows are made possible through private donations, which pay performers' fees.
Due to public safety concerns about large public gatherings at this time, the Fairfax County Park Authority's 2020 in-person concerts have been canceled.
You do not need a Facebook account to view the concerts. The complete concert schedule, with links to join the concert live and information about the performers, is available on the Park Authority's Summer Entertainment web site.
For more information, contact the Park Authority at 703-324-8700, or send an email to parkmail@fairfaxcounty.gov.