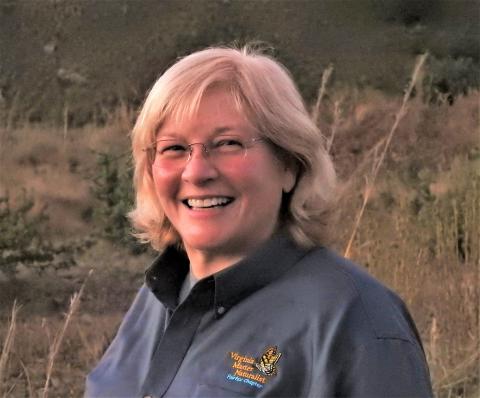 Cathy Ledec will be honored with the 2020 Sally Ormsby Environmental Stewardship Award for 17 years of volunteer service at Huntley Meadows Park and for the Fairfax County Park Authority.
Ledec's outstanding leadership and volunteerism, including as President of Friends of Huntley Meadows Park (FOHMP), have contributed significantly to the long-term preservation of natural resources at Huntley Meadows and throughout Fairfax County. Her advocacy on behalf of the Fairfax County Park Authority (FCPA) has successfully educated many about the importance of a healthy environment in maintaining Fairfax County's high quality of life for residents, businesses and visitors. Her work is firmly focused on improving the environment and on protecting and restoring irreplaceable natural resources, including native wildlife.
Besides her leadership of FOHMP, Ledec provides frequent public comments and testimony in support of FCPA's annual budget, defends parkland from the impact of development projects, performs "hands-on" ecosystem restoration as a Site Leader for the FCPA's Invasive Management Area Program, actively participates in citizen science activities, and serves on multiple advisory boards that influence parks and natural resources, including the Fairfax County Tree Commission and Supervisor Dan Storck's Environment Advisory Committee. In the award nomination, Ledec was cited for making an "enormous difference" at Huntley Meadows Park, Mt. Eagle Park and other FCPA properties.
The Sally Ormsby Environmental Stewardship Award was established by the Park Authority Board on Nov. 14, 2007, in recognition of Sally B. Ormsby's many years of service as a citizen steward. This award recognizes individuals and organizations whose actions embody the spirit and values of stewardship and result in tangible environmental benefits. The award is open to individuals and groups whose actions embody the spirit of environmental stewardship and provide tangible environmental benefits to Fairfax County parks.
Ledec will be honored at a virtual Park Authority ceremony in November.
For more information, contact the Public Information Office at 703-324-8662 or at parkmail@fairfaxcounty.gov.