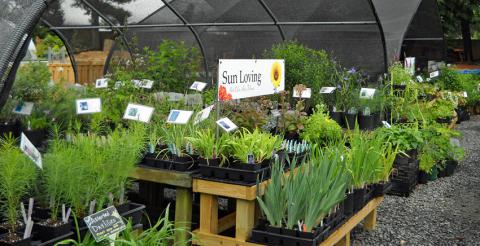 Take your green thumb on a shopping spree at Green Spring Gardens. Green Spring's Garden Gate Plant Shop will open for limited hours starting on Tuesday, Aug. 11, 2020.
The shop, which was closed due to the COVID-19 pandemic, will reopen on Tuesdays and Thursdays from 10 a.m. to 1 p.m. Customers will be required to wear masks and observe social distancing. Curbside pickup for advance orders will continue on Wednesdays and Fridays.
Whether in-person or online, you can choose from an assortment of shrubs and perennials. Check out what's for sale each week at Green Spring's website.
Advance orders are being taken by telephone and must be paid by credit card. Orders are accepted Monday through Saturday from 10 a.m. to 4 p.m. and on Sundays from noon to 4 p.m. Pickups are Wednesdays and Fridays from 10:30 a.m. to 12:30 p.m. and from 2 to 3:30 p.m. Customers will be asked to choose a pickup time when they place their order. Order forms will be updated each Thursday.
Plants can be picked up in the traffic circle at the Horticulture Center at Green Spring Gardens, located at 4603 Green Spring Road in Alexandria, Virginia. Customers must stay in their vehicle, and staff will load plants into the trunk.
Sales benefit the Friends of Green Spring (FROGS), which uses the proceeds to buy plants and supplies for Green Spring Gardens.
For more information, contact the Public Information Office at 703-324-8662, or send an email to parkmail@fairfaxcounty.gov.