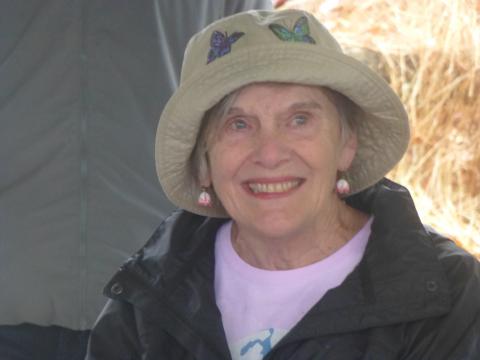 The Fairfax County Park Authority Board has voted to name a pollinator garden at Lake Accotink Park in honor of lifelong educator, naturalist, gardener and community volunteer Margaret Kinder. At its meeting on July 22, 2020, the Board voted to name the garden the Margaret Kinder Education and Pollinator Garden.
Kinder is widely considered a park icon known for her love of parks, especially Lake Accotink Park; and her support for the park and neighboring communities has spanned more than three decades. As a member of the Ravensworth Farms Civic Association Green Thumb Garden Club, Kinder tended the pollinator garden at Lake Accotink Park for years. She could be found in the traffic circle weeding, hoeing and nurturing milkweed during the semi-annual cleanups. She recruited other volunteers, and she instilled enthusiasm as she taught about native plants and invasive species.
When a decision was made to relocate the pollinator garden from the traffic circle to a safer location, Kinder could be found digging holes for the new plants and teaching others about how to create a sustainable garden. She has cultivated young plants and young minds so that, together, they can grow and prosper. In light of her dedication to community and education, the Board deemed it appropriate to name the education and pollinator garden in Kinder's honor.
Park staff will work with Friends of Lake Accotink Park to plan a public ceremony to celebrate the naming of this facility.
For more information, call 703-324-8662, or send an email to parkmail@fairfaxcounty.gov.