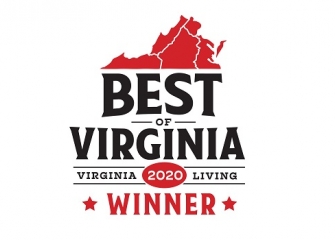 The votes are in and once again, the Fairfax County Park Authority has been named among the top in Virginia Living Magazine's Best of Virginia 2020 competition. Six FCPA facilities were named to uppermost slots with category sweeps in the Best Playground and Best Park categories. One Farmers Market made the list, as well.
Voting in Virginia Living's Best of Virginia 2020 took place in January and included categories under Food and Drink, Living and Recreation, Shopping, and Services in all five Virginia regions: Central, Eastern, Northern, Shenandoah Valley and Southwest. Some 55,000 votes were cast. Due to the COVID-19 public health emergency, the Best of Virginia 2020 issue was delayed and hit newsstands in mid-July.
Taking top honors in the Best Park category were Burke Lake with a first-place win, Frying Pan Park in second place, and Riverbend Park in third place. Each one of these facilities offers visitors unique recreational experiences, has some of the highest visitation rates in the entire park system, and is open with some restrictions during the pandemic.
Burke Lake in Fairfax Station offers an iconic train, fishing, camping and beautiful lakeside picnic pavilions and loop trails. Frying Pan Farm Park in Herndon features Kidwell Farm, a favorite with families who love to visit the animals, enjoy wagon rides, visit the blacksmith, or tour a farmhouse. Riverbend Park along the Potomac River in Great Falls offers kayaking, a shoreline trail system, nature and history programs, and a rare combination of geology, plant life, wildlife, isolation and beauty.
The Park Authority also swept the Playground category with Clemyjontri Park winning first place, Burke Lake Park taking second place honors, and Chessie's Big Backyard in third place. Playgrounds across the park system are among the most popular amenities. Clemyjontri Park in McLean features a unique playground where children of all abilities play side-by-side. This park is a place where children who use wheelchairs, walkers or braces, or who have sensory or developmental disabilities, can have a parallel playground experience of fun and exploration. It features a carousel and picnic pavilion, as well. Chessie's Big Backyard in the Lee District Family Recreation Area in Franconia is a popular spot -- with accessible treehouse, trail of exploration, a carousel, and playground area near reservable picnic shelters.
Many features in the parks may be reserved ahead of time.
Also recognized by Virginia Living readers was the Reston Farmers Market, receiving third place honors as a top farmers market in the region. This producer-only market at Lake Anne Village Center operates Saturdays from 8 a.m. to noon. through Dec. 5. Shoppers are asked to practice social distancing, wear a mask, and adhere to other coronavirus health and safety measures that are in place to protect customers and staff. You can find out more about these guidelines and how you can preorder your purchases at the Park Authority's Farmers Market website.
For more information about pandemic closures, safety guidelines or other information, contact the Public Information Office at 703-324-8662 or at parkmail@fairfaxcounty.gov.