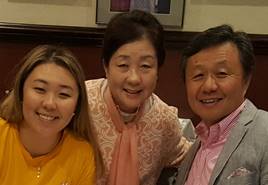 The Hwang Family will be honored by the Fairfax County Park Foundation (FCPF) for their support of county parks and park programs. Family members will receive the 2020 Eakin Philanthropy Award in the Individual category at a virtual ceremony in November.
The Hwangs have generously supported a variety of Park Foundation programs since 2011, with monetary gifts at the five-figure level. William Won K. Hwang has served three terms as a director on the FCPF Board, spanning nine years. He and his wife, Young M., and daughter, Jennifer Hwang, have donated funding for camp scholarships through the Rec-PAC summer camp program for children living in low-income households and PACT (Parks and Community Together) camps for children living in homeless shelters and supportive housing.
Their philanthropy also has included sponsorships of the U.S. Amateur Public Golf Links Tournament and numerous Combo Classic Golf Tournaments. Their Summer Entertainment Series contributions for Evenings on the Ellipse helped bring nationally recognized performers to Fairfax County for the enjoyment of residents and visitors. The Hwang family also facilitated outreach between Fairfax County parks, the Park Foundation and members of the local Korean community, who frequently visit golf courses and other parks.
The FCPF is a charitable organization that supports the Fairfax County Park Authority. Its Eakin Philanthropy Award, established in 2009, is named in honor of the Eakin family, donors of the first parcels of parkland to the Park Authority more than 50 years ago. The annual award recognizes individuals and organizations whose financial or in-kind contributions have significantly enhanced Fairfax County parks through the Foundation. The impact of Eakin awardee-supported projects have long-term benefit to the community, and visionary contributions create new programs or facilities and provide a creative approach to addressing community needs.
To learn more about the Fairfax County Park Foundation, contact 703-324-8581, or visit the Fairfax County Park Foundation website.
For more information, contact the Public Information Office at 703-324-8662 or at parkmail@fairfaxcounty.gov.