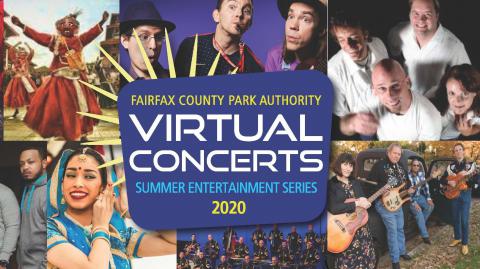 Summer is almost over, but the music still heats up as the Fairfax County Park Authority's virtual summer concert series approaches the finish line with six great performances.
The concerts are broadcast live via Facebook each Thursday through Sunday evening at 7:30 p.m. Arts in the Parks shows for children livestream on Saturday mornings at 10 a.m.
Thursday, Aug. 27, 2020 - Grammy Award winners, Los Texmaniacs are the new kings of Tex-Mex. Annointed by Flaco Jimenez, Los Texmaniacs have recorded with Flaco Jimenez, the original Texas Tornados, Los Super Seven and even the Rolling Stones. Founder Max Baca has participated on 11 Grammy-winning projects.
Friday, Aug. 28, 2020 – Award-winning band Veronneau's Lynne and Ken perform an intimate show in duo format at Lake Anne Wine Bar. They have performed live on the BBC and CBC, and collected six WAMMIES for best jazz vocals.
Saturday morning (children's show), Aug. 29, 2020 – "Bio, Bio, Biodiversity" by Billy B. This show, commissioned by the World Wildlife Fund, uses catchy songs and fun dances to present the many examples of biodiversity here on Earth. Dancing like dragonflies, wiggle waggling like bees, moving like waves over a coral reef are all represented here.
Saturday evening, Aug. 29, 2020 – TEOA (The End of America) is a band of friends, singers and travelers who blend powerful three-part harmony with indie rock and folk. The End of America has performed at SXSW, Savannah Stopover and the Baltimore Folk Fest.
Sunday, Aug. 30, 2020 - The Don Juans feature two Grammy Award-winning songwriters Don Henry and Jon Vezner. Their song, "Where've You Been" (recorded by Kathy Mattea) was the first song in country music history to sweep all major song of the year honors.
These concerts will only be available as Facebook livestreamed events. You do not need a Facebook account to view the concerts. The complete concert schedule, with links to join the concert live and information about the performers, is available on the Park Authority's Summer Entertainment web page.
Each year, the Fairfax County Park Authority, Fairfax County Board of Supervisors and Fairfax County Park Foundation offer free concerts, movies and children's performances that are usually held in Fairfax County parks. They have moved online this summer because of COVID-19.
For more information, contact the Park Authority at 703-324-8700, or send an email to parkmail@fairfaxcounty.gov.