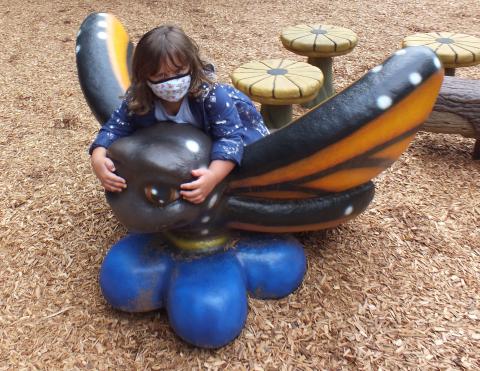 Flit your way over to Hidden Oaks Nature Center/Annandale Community Park to the butterfly metamorphosis-themed playground. Pretend to be munching plants along with the caterpillars, tuck yourself in a pretend chrysalis and soar around flowers as you climb over monarch butterflies. With separate areas for children ages 3 to 5 years old, as well as those ages 6 to 12 years old, children will enjoy many engaging challenges.
Mason District Supervisor Penny Gross exclaimed, "Oh, I wish I were a kid again! The new playground is delightful. Children can play to their heart's delight and learn about the mysteries of butterflies at the same time." Gross added, "Annandale Community Park has long been a popular, family activity spot, but the new amenities make it even more attractive and accessible. A terrific reinvestment in our community, thanks to the voters who supported park bond referenda."
Next to the playground is the newly renovated picnic shelter, with ADA-accessible grills and restrooms. The old swing set further up the hill shines with new paint. Families can enjoy additional picnic tables under the shade of the oak trees.
Looking toward a future grand opening, Mason District Park Authority Board Member Ron Kendall stated, "I am certain residents are going to love the new nature-themed playground at Annandale Park. The playground, along with a new picnic shelter, resurfaced tennis courts, trails and parking lot, will give families an outdoor facility that gives folks multiple options for outdoor activities." Kendall noted all phase one improvements are ADA compliant, adding that phase two improvements are slated to begin "with the buildout of Hidden Oaks Nature Center at the top of the hill."
Take a stroll along recently paved trails between Hidden Oaks Nature Center and the Packard Center, increasing accessibility between the two parking lots. New fern gardens highlight the shady paths.
Open dawn to dusk, the new playground and picnic shelter are in Annandale Community Park, located at 4030 Hummer Road in Annandale. The nature center remains open for scheduled programming currently. For more information on renting the shelter, call 703-324-8732.