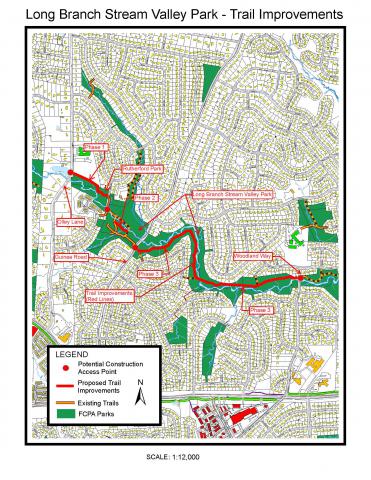 The Fairfax County Park Authority will hold a virtual information meeting regarding the proposed Long Branch Stream Valley Trail Maintenance project on Thursday, Sept. 10, 2020 at 7 p.m. The meeting will provide a community update on this project, which includes reconstruction of approximately 5,200 feet of trail in Long Branch Stream Valley Park. The purpose of the meeting is to provide information regarding the trail project, hear community input and answer questions.
Due to the COVID-19 pandemic, this will be held as a virtual meeting using Zoom and can be accessed with the password LBSVTP!910 or you may listen in by calling 602-333-0032 and entering access code 7-1-9-9-7-6. Speakers are asked to sign up in advance via Parkmail@fairfaxcounty.gov or may pose written questions via the Zoom chat feature during the meeting. Speakers are limited to three minutes each.
We hope that you will share this information with others who may be interested in your community. For more information regarding this meeting contact the Public Information Office at 703-324-8662 or via email at Parkmail@fairfaxcounty.gov.