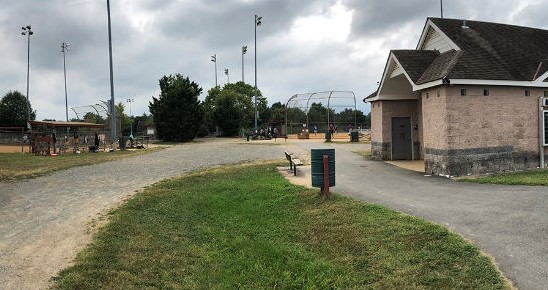 The Fairfax County Park Authority has started a public planning process that will update the master plan for Braddock Park. The 61-acre district park is located at 13451 Braddock Road in Clifton, Virginia. The park is owned by the Park Authority, sharing a property boundary with Centreville High School to the south and Twin Lakes Golf Course to the east.
The original goals set forth in the 1981 Park Master Plan were to incorporate both passive and active recreational opportunities, while also preserving the natural resources of the site. Today, the park is primarily an athletic facility containing six natural turf softball diamonds, one synthetic turf rectangular field, a batting cage area, picnic pavilion and a restroom. The main objectives for revising the Braddock Park master plan are to find out how the park has met the needs of the community to date and to determine how it could be improved for future users.
A public information meeting will be held on Thursday, Oct. 1, 2020 at 7 p.m. The meeting will be held online in a virtual setting so that members of the public will be able to participate safely from their own homes. You can watch the meeting online at Public Input, or listen by calling 855-925-2801 and entering the access code: 6608.
During the meeting, Park Authority staff will provide background on the park and the planning process before opening the floor for questions and comments from the community. At the conclusion of the meeting a weblink for a public survey will be provided so that all members of the community have an opportunity to provide their input. Written comments will also be accepted at Parkmail@fairfaxcounty.gov. A 30-day comment period will conclude on Friday, Oct. 30, 2020. The public input will be collected and reviewed. Park design concepts will be developed and presented publicly in early 2021.
For more information, please visit the Braddock Park Master Plan Revision project webpage, or contact the Public Information Office at 703-324-8662 or via Parkmail@fairfaxcounty.gov.