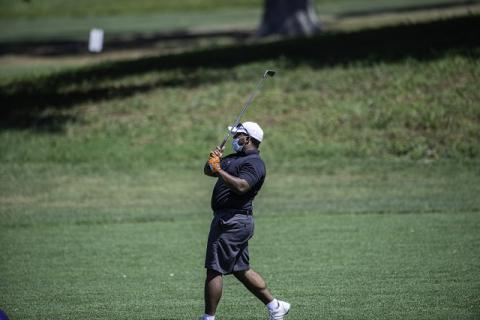 Test your golfing talent with a championship challenge or by leaving some clubs at home in upcoming Park Authority golf tournaments.
Discover who's the best in the Club Championship at Burke Lake Golf Center on Saturday, Sept. 19, 2020. Players will compete in an 18-hole, individual stroke tournament beginning at 8 a.m. There will be closest-to-the-pin contests and prizes for first, second and third place in three divisions - Men, Women, Senior. The cost is $40, which includes lunch.
Burke Lake Golf Center is located at 7315 Ox Road, Fairfax Station, Virginia. For more information, call 703-323-164, or visit Burke Lake Golf Center.
How would do with only four clubs in your bag? Find out at the "Four Club Fall Classic" on Saturday, Oct. 3, 2020, at Jefferson District Golf Course. In this 9-hole, individual stroke play competition, golfers age 8 to adult will be allowed to use only four clubs as they make their way around the course. The cost is $35 per person, which includes prizes. The rain date is Oct. 10, 2020.
Jefferson District Golf Course is located at 7900 Lee Highway, Falls Church, Virginia. For more information, call 703-573-0444; or visit Jefferson Golf Course.
Park and Play safety and cleaning guidelines will be in place for the tournaments. A mask or face covering is required to be worn by individuals age 2 and older when indoors at Park Authority facilities. Masks or face coverings are required for outdoor programs when physical distancing cannot be maintained. Exceptions will be made for health reasons or for activities, such as eating or exercising.