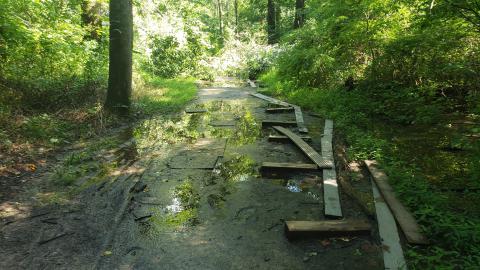 Braddock District Supervisor James Walkinshaw has given the green light to a trail maintenance project following a recent virtual meeting in which community members voiced support for the long-planned project. The Fairfax County Park Authority held a well-attended, online information meeting regarding the proposed Long Branch Stream Valley Trail Maintenance project on Thursday, Sept. 10, 2020. The meeting drew over 80 participants, including Supervisor Walkinshaw and Braddock District Park Authority Board Member Kiel Stone, and provided a community update, plus the chance for residents to ask questions and air concerns.
This $675,000 project, funded via the 2016 Park Bond, includes reconstruction of approximately 5,200 feet of trail in Long Branch Stream Valley Park. The project will begin in earnest within the next month, with completion slated for March 2021. Details of the project and the challenges associated with trail maintenance are detailed in the meeting presentation. Similarly, the virtual meeting recording is also available. A summary of comments will be available shortly.
In response to concerns voiced by residents worried about impact of the construction during this time of high trail use is the decision to phase the project. To reduce this potential impact to park patrons, the Park Authority will split Phase III of the project (between Guinea Road and Woodland Way) into two separate phases. Phase III will now be from Guinea Road to the steel bridge over Long Branch, and Phase IV will be from the steel bridge over Long Branch to Woodland Way.
For more information regarding this project contact Project Manager Ed Deleon at 703-324-9569 or email at Eduardo.Deleon@fairfaxcounty.gov, or contact the Public Information Office via email at Parkmail@fairfaxcounty.gov.