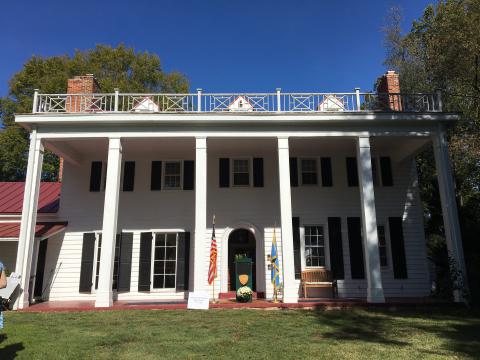 This year, historic Oak Hill will open its doors to the public through a virtual tour in autumn.
In 2004, Seville Homes, the Northern Virginia Conservation Trust, the Fairfax County Park Authority and the Fairfax County Board of Supervisors agreed to a historic and conservation easement to preserve the privately-owned home and property, including its 200-year-old boxwoods. As part of the agreement, the owners were asked to open the property and the first floor of the home periodically to share this important piece of county history.
Since the property was saved, the community has been invited to visit the manse each year for home tours and outdoor displays celebrating local history and the environment. This year, the pandemic has made it difficult, if not impossible, to invite the public to the grounds. So, residents, historians and government staff have banded together to develop a virtual tour of Oak Hill to keep the tradition alive.
The video is being produced by Channel 16 and will debut this fall. The house will not be open as previously planned on Sept. 26, 2020. Information about the site and the debut of the virtual tour can be found online at the Oak Hill website.
For more information, contact the Public Information Office at 703-324-8662 or send an email to parkmail@fairfaxcounty.gov.