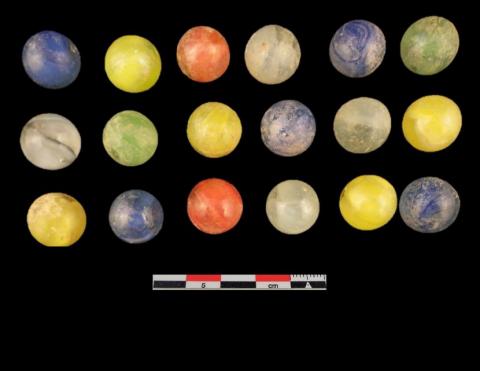 Children can be easily overlooked in history, but this month's addition to the artiFACTS website provides a glimpse into the lives of kids in Fairfax County more than 100 years ago.
Learn what archeologists discovered hiding under a brick floor on the historic Ash Grove property that was once owned by a member of the family that gave Fairfax County its name.
A restoration project took an unexpected turn when a popular toy of the early 1900s was found buried in sand. Turn to artiFACTS this month to get the full story. If you ever played with a shooter, cat's eye or aggie, you might discover your own connection to the past.
The Park Authority's collections include more than 5,000 historic objects, such as quilts, chairs, baskets, machines, and clothing; thousands of archival items, such as photographs, letters, maps, and other documents; and upwards of 3 million artifacts that include archaeological finds, such as spear points and pottery. All come with their own stories to tell. artiFACTS allows us to showcase a small sampling of these treasures to educate, enlighten and entertain.
For more information about the Park Authority's Museum Collections, contact Heritage Resource Specialist Megan Leining at 703-631-1429 or at megan.leining@fairfaxcounty.gov.