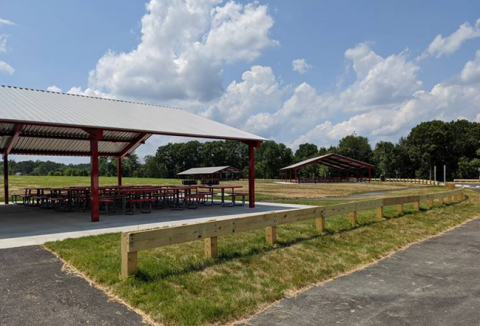 An expansive new picnic shelter location is open and ready to host your family gatherings, staff meetings, parties and more at Laurel Hill Central Green.
This $3 million project included construction of three picnic pavilions, an accessible asphalt loop road, parking, trails and supporting infrastructure to include storm water management facilities and related site work. Funding for the project was provided through voter-approved Park Bonds.
Central Green is located southeast of the Laurel Hill Golf Club in Lorton, Virginia, and has a large lawn area suitable for activities, such as races, kite flying and special events. Within walking distance of the shelters is the Barrett House Historic Property and Giles Run Meadow Disc Golf course. The area also offers easy access to the Gerry Connolly Cross County Trail.
Depending on which shelter you choose, there is seating capacity for 120 to 168 people and room for 160 to 215 people. Prices range from $150 to $335, depending on the shelter and day of the week. The site accepts full-day reservations only.
Laurel Hill Central Green is located at 8780 Lorton Road, Lorton, Virginia. For more information, visit the Park Authority's Picnics web page, or email FCPAPicnics@fairfaxcounty.gov.
For more information, contact the Public Information Office at 703-324-8662 or at parkmail@fairfaxcounty.gov.