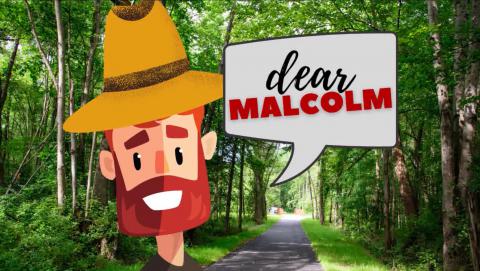 If you're running out of ways to keep yourself and the kids entertained, use the Park Authority's Virtual Exploration Center this week to get ideas for real-world adventures in Fairfax County parks.
What kinds of critters might you see on a hike at Huntley Meadows? Find out as the park's own Dear Malcolm answers a question about what to expect on a visit to the forests and wetlands at Huntley. If your kids have a question for Dear Malcolm, send it to Kylie Starck at kylie.starck@fairfaxcounty.gov, and remember to check back at the Virtual Exploration Center to see if Malcolm has an answer for you.
If you're more into plants, walk with a Master Gardener at Green Spring Gardens to learn about one of the garden's special trees – a towering London plane tree. Discover how this tree brings beauty to the park year-round. Let the video inspire you to find your own favorite plants and places at Green Spring.
Up for a mystery? Become a secret agent and go on a mission at Cub Run RECenter. Follow the clues to defeat the evil Dr. Derek and prevent an impending jalapeño ice cream explosion. Find everything you need to save the RECenter from potential disaster on the featured link.
Check back regularly for updates to the Virtual Exploration Center to stay physically and mentally fit while access to park facilities is limited due to the COVID-19 pandemic.
For more information, contact the Public Information Office at 703-324-8662 or send an email to parkmail@fairfaxcounty.gov.