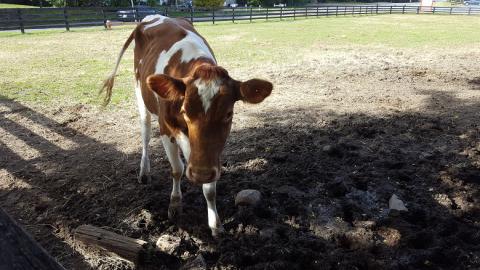 Root for your favorite cow when Frying Pan Farm Park hosts its first-ever NASCOW Race on Friday Oct. 16, 2020.
This unusual event, sponsored by the Friends of Frying Pan Park, will pit 11 of the park's cows against each other in a not-so-speedy race to the finish line. The goal of NASCOW is to replace revenues lost by the COVID-19-related cancellation of the park's traditional Farm Harvest Days fundraiser. The Friends group hopes to raise $10,000 by asking the public to sponsor their favorite cows in the race. Proceeds will be used to help care for animals on the farm.
The NASCOW contestants range in age from 9 months to 4 years, and the competition even includes some family rivalries. Because large gatherings are still prohibited, the event will be videotaped and shown online. You can find sponsorship information, as well as photos and bios of the "racing cows," on the NASCOW Race website.
Frying Pan Farm Park is located at 2709 West Ox Road, Herndon, Virginia. For more information, call 703-437-9101, or visit Frying Pan Farm Park.