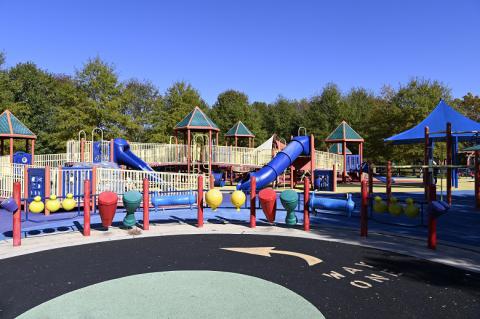 Three Fairfax County parks are among the region's favorites as chosen by readers of Washington Parent magazine this year.
Clemyjontri Park was a winner in the Fun & Activities/Playground category, and Riverbend Nature Center and Burke Lake Park were both finalists in the Fun & Activities/Nature Centers category. Burke Lake Park was also honored as a finalist in the Fun & Activities/State & Neighborhood Parks category. The honors are based on more than 11,000 votes in the magazine's 2020 Washington Parent Picks contest.
The colorful Clemyjontri Park in McLean features a unique playground where children of all abilities can play side-by-side. Children who use wheelchairs, walkers or braces, or who have sensory or developmental disabilities, can have a parallel playground experience of fun and exploration.
Riverbend Park is located along the Potomac River in Great Falls and offers a rare combination of geology, plant life, wildlife, isolation and beauty. It offers a nature center for educational programs, a visitor center with Native American exhibits, trails and water activities.
Burke Lake Park in Fairfax Station offers 888 acres of fun with a popular loop trail around the lake, boating, fishing, camping, mini-golf, and train and carousel rides. There's even a seasonal ice cream parlor for summertime treats.
A complete listing of the contest winners is available in the October issue of Washington Parent magazine.
For more information, contact the Public Information Office at 703-324-8662, or send an email to parkmail@fairfaxcounty.gov.