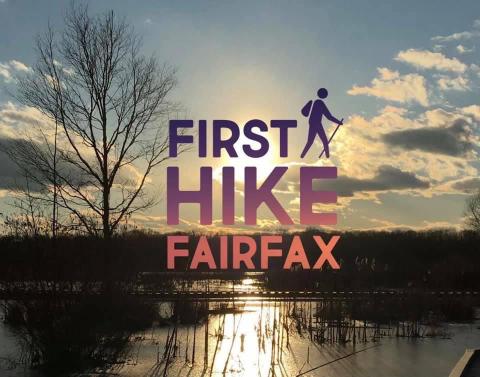 Last year's First Hike Fairfax program, which drew hundreds of people onto local trails on New Year's Day, has been honored by the Virginia Recreation and Park Society (VRPS) as the Best Health Initiative in the category for a population area greater than 200,000. The announcement was made last week during the organization's annual conference.
First Hike Fairfax is the Fairfax County Park Authority's initiative to encourage the community to ring in the new year on a healthy note by taking a hike or walk on trails. In 2019, First Hike Fairfax included trails throughout the Park Authority system, and additional awards were added to the photo contest. Community voting was also expanded to be more inclusive. As a result, on Jan. 1, 2019, hundreds of hikers took to Fairfax County trails and nearly 280 of them submitted photos to the photo contest – three times that of the previous year. An additional 1,200 people voted online as part of the program's photo contest. Photos were then used throughout the winter to highlight trails and winter workout tips.
The VRPS awards program honors individuals, departments and organizations throughout Virginia which have demonstrated excellence during the previous year. More than 95 applications were received vying for awards in 14 different categories. Applications are judged by a jury of peers. More than 150 delegates from around the state gathered virtually this week at the 65th Annual Conference of the Virginia Recreation and Park Society.
For more information, contact the Public Information Office at 703-324-8662, or at parkmail@fairfaxcounty.gov.