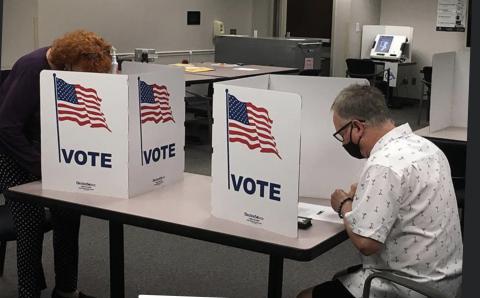 The Fairfax County Park Authority will host six polling locations on Nov. 3, 2020. These six sites will be closed to customers to facilitate voters. Other Park Authority sites will be open for business.
Closed for the day will be Cub Run RECenter, South Run RECenter, Oak Marr RECenter, Spring Hill RECenter, Frying Pan Farm Park Visitor Center and Green Spring Gardens Horticulture Center. The action was taken to ensure maximum available parking, to enhance public safety relative to traffic and COVID-19 social distancing, and to allow election officials to accommodate potentially large crowds.
We apologize for any inconvenience our customers may experience and encourage RECenter members to consider use of other Park Authority facilities. The grounds at Green Spring Gardens and Frying Pan Farm Park will remain open. The Indoor Arena will be open for scheduled programs, and the carousel and wagon rides will operate, weather permitting, at Frying Pan Farm Park.
For all questions pertaining to voting, please contact the Election Office at 703-222-0776.
For more information about park operations, contact the site directly, or contact the Public Information Office at parkmail@fairfaxcounty.gov.