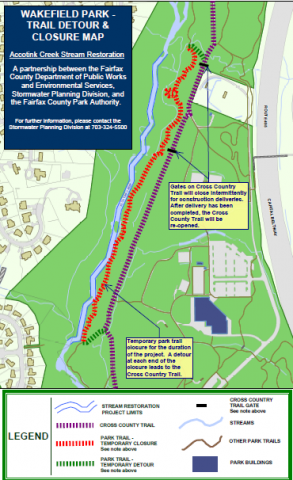 Construction work along the main stem of Accotink Creek and a secondary channel at Wakefield Park is set to begin. The Fairfax County Department of Public Works and Environmental Services has contracted with Avon Corporation for this stream restoration project, which will start in mid-November 2020. The project area is located west of the Gerry Connolly Cross County Trail (GCCCT) and north of Braddock Road on Park Authority's Wakefield Park within the Braddock District.   
This is a pilot project that will employ a unique design approach to trap sediment and achieve restoration objectives, including stream stabilization, water quality improvements, aquatic and riparian habitat enhancement and reconnection of the channel and its floodplain. 
Additional details for the project can be found at the Accotink Creek at Wakefield Park Stream Restoration site.
The contractor will be mobilizing shortly, and construction traffic will be entering and exiting the project area via an existing trail connection to the GCCCT. Wakefield Park will remain open for the duration of this project; however, for safety reasons, temporary closure of the natural surface trail adjacent to the project limit is necessary until the work is complete. Intermittent closure of the GCCT is also anticipated to provide safe passage of construction materials in and out of the work zone. Construction is projected to last through July 2021.
For more information, please contact Project Manager Justin Pistore in the Department of Public Works and Environmental Services – Stormwater Planning Division at 703-324-5500.