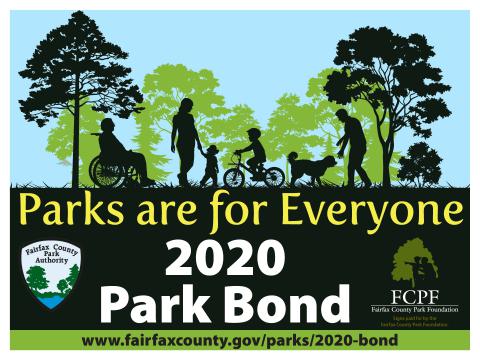 Fairfax County voters approved a $112 million bond on the Nov. 3, 2020 ballot that includes $100 million for the Fairfax County Park Authority and $12 million for Nova Parks. The bond passed by more than 72% (unofficial) It was the 14th-consecutive Park Bond approved by county voters, dating back to the first $4 million bond in 1959.
"The voters have once again affirmed the significance that parks provide in their quality of life as residents of Fairfax County," said Park Authority Director Kirk Kincannon. "We saw the importance of parks displayed by high levels of visitation to the park system this year, as we dealt with the beginning of the pandemic. Parks continue to contribute to our well-being and health in so many aspects related to our lives, and the approval of the Park Bond is a statement by the community of their support for the Park System."
Funds from the 2020 bond will be used to fund improvements in four different categories: Park Renovations and Upgrades, New Park Development, Natural and Cultural Resource Stewardship, and Land Acquisition and Open Space Preservation. It will allow the agency to upgrade, improve and renovate existing playgrounds and RECenters; provide new facilities and expand the Resident Curator Program; acquire additional land to enhance parks and protect resources; and expand facilities, such as the Mt. Vernon RECenter Ice Arena and Patriot Park North.
The project list balances priority needs; reinvestment in aging facilities; investments in land, natural and cultural resource protection; advancement of phased projects; and improvement of the park experience for Fairfax County's 1.1 million residents.
Fairfax County Park Authority administers more than 23,000 acres of parkland. Its broad range of  facilities and programs offer residents opportunities for play, picnics, walking, jogging and hiking, sports of all sorts, health and fitness, golf, camping, ice skating, skateboarding, boating, archeology, and exploration at a working farm, public gardens and historic sites.  
For more information, contact the Public Information Office at 703-324-8662 or at parkmail@fairfaxcounty.gov.