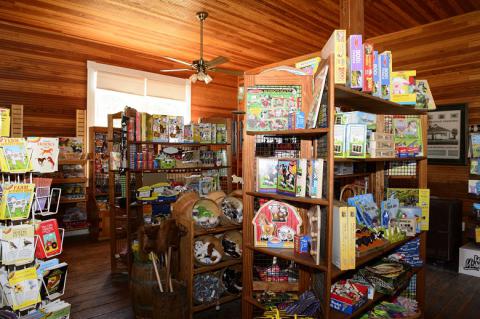 From private shopping appointments to curbside pickup, Fairfax County parks are offering safe and easy ways to find unique holiday gifts for everyone on your list this year.
For the foodie in the family, consider locally sourced flour, corn meal and grits ground the old-fashioned way at Colvin Run Mill. The Colvin Run Mill General Store sells whole wheat flour, white and yellow cornmeal, and white grits. It also features tea blends created by Laurie Bell of the Great Falls Tea Garden. You can even find new ways to use the products by checking out the tasty recipes on Colvin Run's website. Call 703-759-2771 from Monday through Friday to place your order and arrange a pickup time. The General Store is open for business on weekends from 11 a.m. to 4 p.m.
Looking for a non-electronic gift to spark your child's imagination? Stop by the Frying Pan Farm Park Country Store and shop for farm-inspired gifts, such as old-fashioned games, puzzles, tractors, toy farm animals and tools for young gardeners. The shop also sells local honey and jams, White House ornaments and unique Frying Pan items to delight everyone in the family. Call 703-437-9101 to request your 30-minute shopping appointment, Monday through Friday between 9 a.m. and 4 p.m.
The Green Spring Gardens Gift Shop is offering appointments for private shopping sprees for individuals or family pods. Find gifts ranging from practical to whimsical for the gardener, nature- lover and the children on your shopping list. Choose from a broad selection of horticulture and nature books, gardening tools, gloves, T-shirts and other gardening-themed gifts. The kids' corner offers great books, games, crafts and puppets. The shop also offers garden-inspired fashion accessories, decorative arts, home décor and beautiful greeting cards. Call 703-642-5173 to request a 30-minute appointment at the shop inside the Horticulture Center.
To shop at the Sully Historic Site Gift Shop, look online at gifts available for history buffs and children. Choose from an assortment of toys, specialty soaps, teacups and mugs, earrings, and tea towels, as well as history-themed gifts for all ages. Be sure to look for the special items reduced for sale this season. Call 703-437-1794 to place your order for Friday pickup times or by request arrangements.
For more information, contact the Public Information Office at 703-324-8662 or at parkmail@fairfaxcounty.gov.