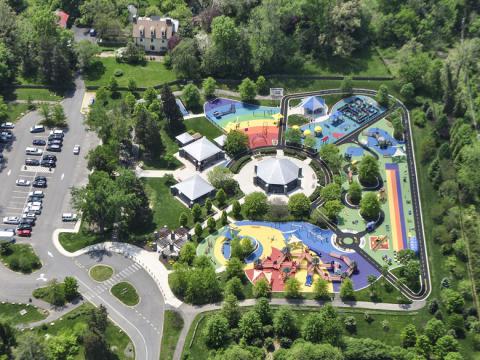 The Fairfax County Park Authority (FCPA) will host a public meeting to discuss the planning process and potential revisions to the Clemyjontri Park Master Plan.
The meeting  will be held on Thursday, Dec. 17, 2020 at 7 p.m. It will be held online in a virtual setting so that members of the public will be able to participate safely from their own homes. You can watch the meeting at https://publicinput.com/K4881, or listen via telephone by calling 855-925-2801 and entering the access code: 8950.
Clemyjontri Park and its vision were made possible through the generosity of benefactor Adele Lebowitz and the Lebowitz family, who donated the property to the Park Authority in 2000 with the desire to provide a comprehensive play experience for all children in a barrier-free setting.
The agreement provided that her home be available for community use. The park is one of the first large-scale parks in the country specifically planned and built as an inclusive space, where children of all abilities can play side-by-side. It includes a playground, carousel, swings and other recreational features. Clemyjontri Park is owned and operated by FCPA and is located at 6317 Georgetown Pike in McLean.
The master plan approved in 2002 envisioned development of the park in three phases; the first two, which included the playground and secondary parking lot have been completed. As a revision to Phase III, McLean Project for the Arts (MPA) and the Park Authority are exploring development of a new arts center at Clemyjontri Park to further its arts and educational mission. The ​proposed project would feature reuse and redevelopment of the existing residence on the property, as well as new construction, for gallery exhibition space and arts education classroom facilities. 
MPA envisions an all-inclusive art center, which provides a creative respite for the community that is integrated into, yet distinct from, Clemyjontri Park. The center could potentially exhibit the work of contemporary artists, offer arts instruction and classroom space, and include public artwork in the park. ​No changes to the park's playground or other recreational amenities are planned.
The meeting will feature a presentation about the site's current conditions and proposed arts center concept. Following the presentation, the meeting will continue with a moderated public discussion to allow for questions. Comments or questions on the proposal may also be submitted after the meeting via email at Parkmail@fairfaxcounty.gov.
For more information, please visit the Clemyjontri Master Plan Revision project webpage; or contact the Public Information Office at 703-324-8662, or via Parkmail@fairfaxcounty.gov.